Dr. Za-Chieh Moh Receives ACECC Civil Engineering Achievement Award
Dr. Za-Chieh Moh Receives Asian Civil Engineering Coordinating Council (ACECC) Civil Engineering Achievement Award
On 1st September 2016, Dr. Za-Chieh Moh was awarded the Asian Civil Engineering Coordinating Council (ACECC) Civil Engineering Achievement award at the 7th Civil Engineering Conference in the Asia Region (CECAR 7) in Oahu, Hawaii.
His outstanding contributions to engineering as:
Dr. Moh is a true "Engineer ".
He is an academician as well as a practicing engineer. He has made significant contributions in both academic development and engineering practice, on regional basis.
Dr. Moh is a believer and doer in "Engineering Globalization".
He has excellent character and is well respected by the engineering community,both domestically and internationally.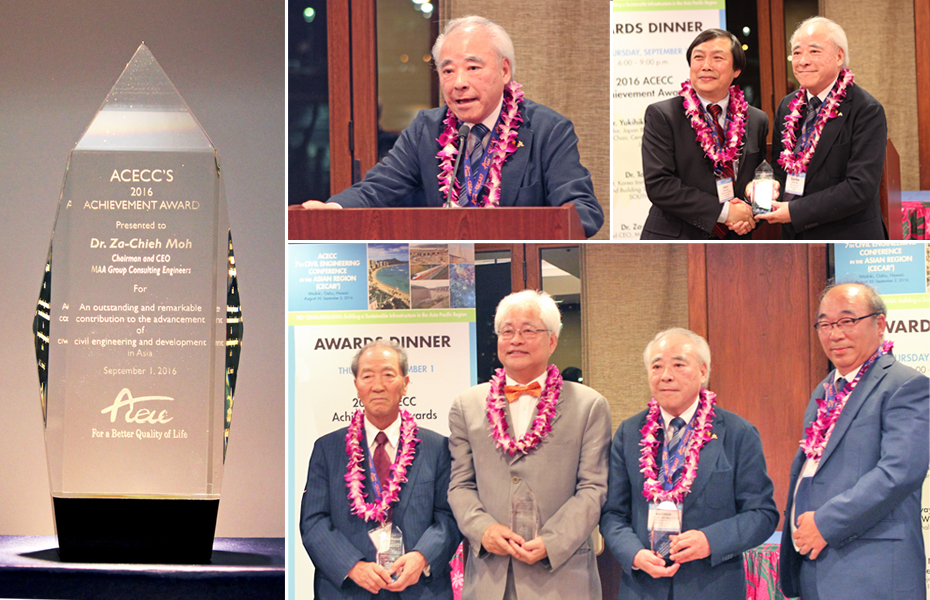 (1) Contribution on the advancement of civil engineering
In his over 50 years' professional life, Dr. Moh has made significant contributions to the advancement of civil engineering in education, research, professional practice and development, training, and international activities.
(a) Education: In the earlier days of Dr. Moh's professional life, he has taught general civil engineering and geotechnical engineering courses at Yale University in the USA. From 1965 to 1976, he served as Associate Professor, Professor of Geotechnical Engineering, responsible for the establishment and development of post graduate program of Geotechnical Engineering at the Asian Institute of Technology in Bangkok, Thailand. That program was one of the first developed in Southeast Asian and became one of the well known and leading graduate and research program of geotechnical engineering in the world. Through his leadership and guidance, the name "Bangkok Clay" played significant role in research of behavior of soft soils along with some well known soil deposits in the world.
(b) Professional Practice and Development: In 1976, Dr. Moh resigned from full time teaching and research work and established a practice orientated engineering firm – MAA. Throughout the subsequent 40 years of professional practice work, Dr. Moh continued his research interest. He has introduced many new concepts and ideas into practice. More than one hundred sixty technical papers were published internationally.
(c) Over the past 40 years, the professional consulting work of Dr. Moh's companies cover many aspects of development and services, including planning, design, construction supervision and project management for infrastructures, land development and environment protection. MAA Group now has more than 1,000 professional staff with offices in Taiwan, Thailand, China, Singapore, Hong Kong, Macau and Myanmar. The company is one of the first to introduce BIM to planning, design and project management of infrastructure projects in the region.
(2) Contribution to international cooperation and support
Dr. Moh was responsible and served as the Founding President of the Southeast Asian Geotechnical Society from 1967 to 1971. The Society has been and still is one of the most active member societies of the International Society for Soil Mechanics and Geotechnical Engineering (ISSMGE). The ISSMGE now has over 18,000 individual members and 80 member societies around the world. Dr. Moh was elected as the Vice President for the Asian Region in 1973-77, as a Board member for the term 1989-93.
Dr. Moh also served as Committee Chair responsible for the organization of specialty sessions at international conferences. He was responsible or served as advisor for the organization of a number of regional geotechnical conferences.
From 1987 to 2000, Dr. Moh served as a Board Director and Honorary Treasurer-General of the Road Engineering Association of Asia and Australasia.
In 2007, Dr. Moh initiated the organization of the Association of Geotechnical Societies in Southeast Asian Region (AGSSEA), which now has member societies from SEAGS, VN, Taiwan, Singapore, Malaysia, Hong Kong and Thailand as organization members. Dr. Moh was and is still active in many international engineering organizations, including FIEAP, FIDIC, WFEO,IEA.
Dr. Moh has been invited to deliver keynote lectures at a number of regional and international conferences. The two most recent ones were the Second Thai Geotechnical Conference in Bangkok in September and the 15th Asian Regional Conference on Soil Mechanics and Geotechnical Conference in Fukouka, Japan, in November 2015.
(3) Contribution to the Asian region and ACECC member economies
Besides the international and regional professional activities described above, one of the most recent and continuous contribution of Dr. Moh to the Asian region is his services related to the promotion of engineers' mobility across boarder. He was the first and served for 10 years the Chair of the Monitoring Committee of the Chinese Taipei APEC Engineer/ International Professional Engineer Agreement. The position was jointly appointed by the Chinese Institute of Engineers and the Public Construction Commission. The latter is the regulatory body of professional engineers in Taiwan. From 2011 to 2015, Dr. Moh also served as the Chair of the APEC Engineer Agreement Coordinating Committee of the International Engineering Alliance.
(4) Other special remarks
In recognition of Dr. Moh's contributions, he was awarded with the following honors:
"Gold Medal for Academic Achievement", Chinese Institute of Civil and Hydraulic Engineering, 1993
"Man of the Year", China Road Federation, 1983
Honorary Doctor of Technology, Asian Institute of Technology, 1999
Honorary Member, Road Engineering Association of Asia and Australasia, 2000
Honorary Member, Japanese Geotechnical Society, 2003
"Engineer of the Year"(the first one), Federation of Engineering Institutions in Asia and Pacific, 2008
"Engineering Medal", Chinese Institute of Engineers, 2012