The SEAGS 50th Anniversary Symposium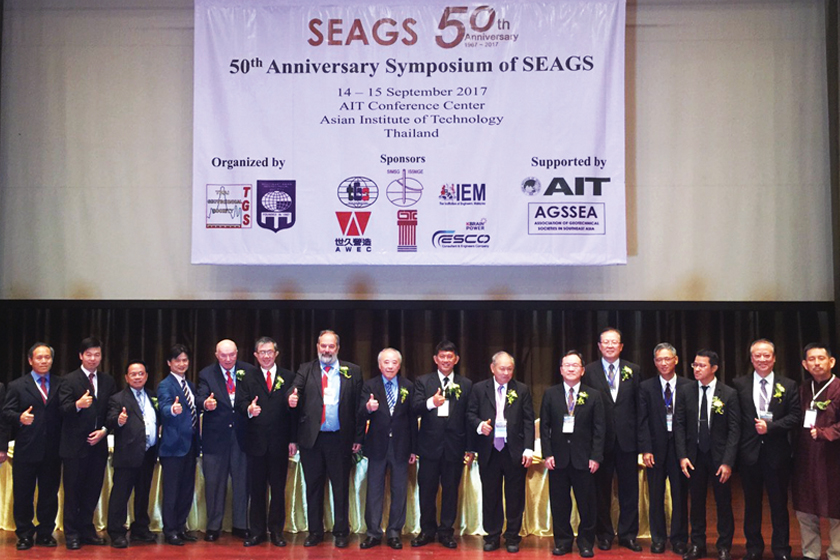 The Southeast Asian Geotechnical Society (SEAGS) 50th Anniversary Symposium was held on 14th -15th September 2017 at the Asian Institute of Technology Campus in Bangkok. The symposium was jointly organized by the Thai Geotechnical Society and the Southeast Asian Geotechnical Society of ISSMGE. As the Founding President, Dr. Za-Chieh Moh was invited to deliver the opening address entitled "Vision, Mission and Accomplishments of SEAGS". For his contribution to the SEAGS, Dr. Moh was presented with the Certificate of Highest Recognition by the Society. The auspicious occasion jointly chaired by Dr. Noppadol Phienwej, current President of SEAGS and Dr. Suttisak Soralump, President of TGS, was attended by more than 150 delegates from over 20 countries.
Many of the distinguished figures in the geotechnical arena attended the celebration cum symposium, including Prof. Roger Franks, President of ISSMGE, Prof. Ikuo Towhata, VP for Asia ISSMFE, Past President and Secretary General of the SEAGS Dr. C. D. Ou, Dr. John Li, Dr. C.T. Chin, Prof. K. Y. Yong, Dr. T.A. Oai, Dr. John Nelson and Dr. D.T. Bergado. Also present were Prof. Charles Ng, newly elected President of ISSMGE, and Prof. S. S. Lin, Chairman of the AGSSEA.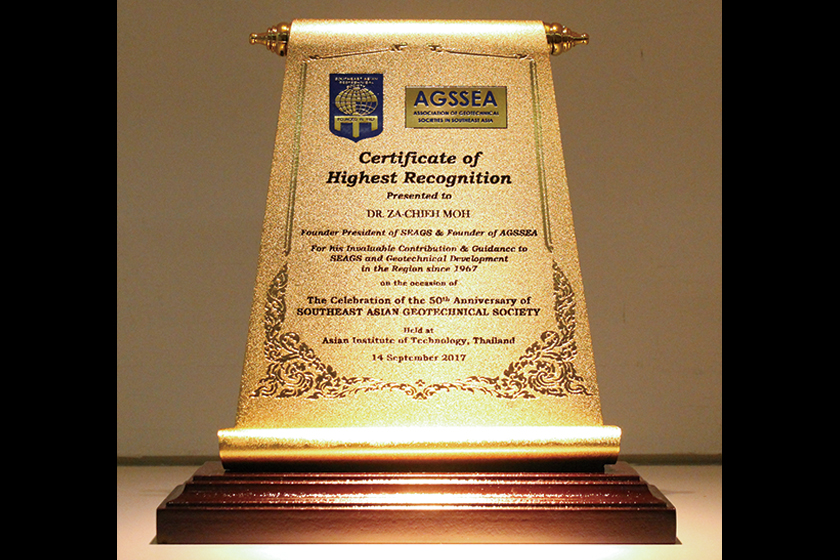 Dr. Za-Chieh Moh received the Certificate of Highest Recognition by the Southeast Asian Geotechnical Society
History: (excerpt from "50 Anniversary Symposium of SEAGS" Bulletin No.3)
The SEAGS was founded in 1967 by Dr. Za-Chieh Moh as a regional society to include Thailand Malaysia, Singapore, Philippines, Hong Kong and Taiwan and other societies in Asia at a time where no other national societies existed. It now has a membership of over 200. Its members are very active in soil mechanics and foundation engineering, engineering geology, rock mechanics, geo-environmental engineering, and geosynthetic engineering.

The Association of Geotechnical societies in South-East Asia (AGSSEA) is an enlarged Society of SEAGS and promoted by SEAGS to bring all National Societies of SE Asia under one umbrella. The objectives of the Association are the promotion of co-operation among geotechnical societies in SE Asia; and assistance to member societies who currently have limited number of members.

Thai Geotechnical Society, TGS, was originally formed as one of technical committee of the Engineering Institute of Thailand, EIT, under HM The King patronage in 1993. From then on, it has played an active role in promoting technical advances and research activities in the field of geotechnical engineering in Thailand. With the increasing demand in its activities, the committee decided to establish TGS in 2008
and joined the International Society for soil Mechanics and Foundation Engineering in the same year. Currently, the Thai geotechnical engineers are estimated to be around 2,000 actively working in the country where there is increasing demand for geotechnical expertise.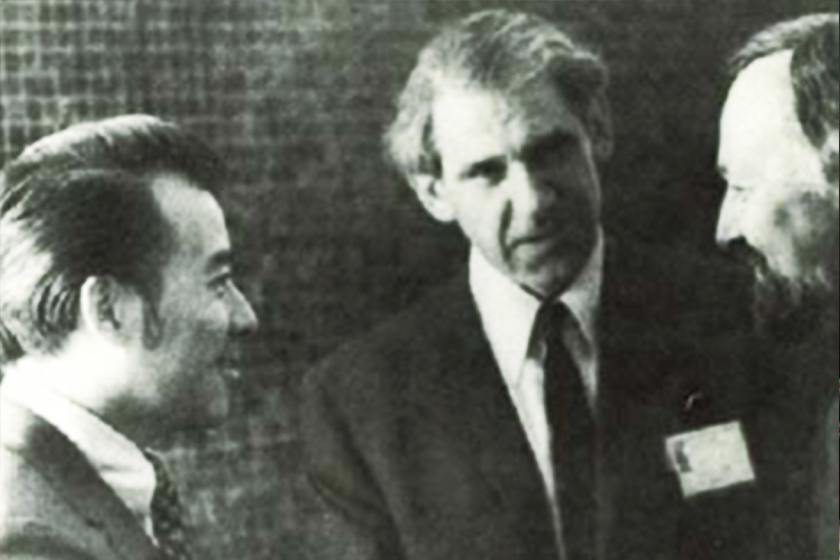 World renowned geotechnical Professionals who helped in the formation of SEAGS in 1967
Prof. Kevin Nash with Dr. Za-Chieh Moh